It's that time of year again that I need to put out the hottest decor around for this Fall season! There's some good ones in here, the last one is so smart and one that I will be doing in and out of season. Autumn rules, Winter drools slush all over the place. (Sorry for triggering some people with the "W" word)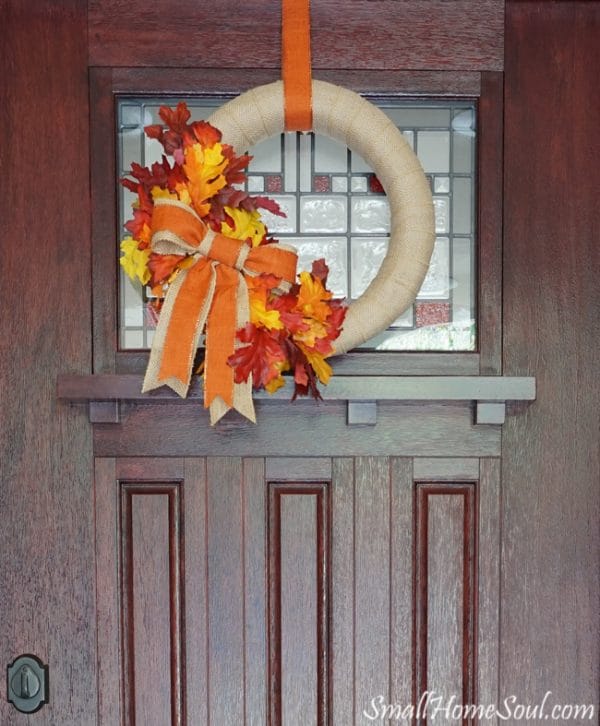 Wreaths can be a pain to make but they really add to the apartment door if you make them. They cost a great deal too, and then you're worried about them breaking all the time! Seriously, what if during that wild rager someone slams the door and it falls and breaks? Or if your roommate is so mad that you skipped the dishes another time that they chuck it at you, that's a real issue there. This is fairly cheap, pretty accessible material at Michaels or maybe even Walmart and Target, and it's simplistic for you minimalists out there! Great, great addition to those boring doors we gave you guys.
"Summer is winding down and it's time to start thinking about how to decorate our porch for Fall. This DIY Fall Wreath is a simple craft and idea for a beautiful seasonal touch. Making your own wreath isn't as hard as you think. Toni is showing us how she made this DIY Fall Wreath with this simple tutorial! Visit Small Home Soul for more beautiful home diy ideas! You may also enjoy this Coffee Filter Wreath! "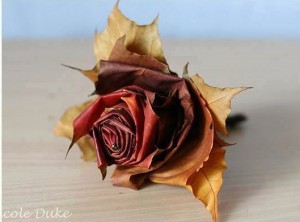 Roses are red, unless you make them from Fall leaves then you have been misled. Did you like that poetry I just made? I know, not the greatest piece in the world but definitely thought-provoking.  If you love gradient colors this can be a great way to create an extremely unique rose for a significant other or just as table decorations. Personally, I would make a bunch and hang them from the ceiling all around. But if your better half loves Fall, then I have your Fall gift exchange item right here!
"Foliage season is such a short season, I hope you can make many beautiful fall leaf rose bouquets! They'd be a lovely inexpensive gift for friends and family. Some people have used them as centerpieces for fall weddings and they are beautiful!"
This is pretty intuitive, but it's so perfect for the entire Fall Festivities (yes, even Flannel Fest). As you put candy out for the few brave children who go to your apartments for candy on Halloween, imagine everyone's impressed look as they realize your pumpkin decorating skills are on fleek. And they just make cute centrepieces too, just saying.
"You can find  these candy holders cheap at almost any thrift store.
I paid 50 cents for each of these . (I know what you are thinking –big spender- rigghhtttt!? ) "
YAS! Students rejoice at the best candle holder ever invented! These carved out apples are the greatest creations, imagine the smell of fresh apples with the glow candlelight as you enjoy a fabulous dinner. Remember your Friendsgiving is coming up and you need to have the best decor in order to get the Fall reward (if you and your friends don't compete then what's the incentive)! Orange glow with red apple, that's what
Fall is all about!
"It's easy to keep these apple votives looking fresh for your party (and beyond) if you give them an apple cider vinegar bath before cutting into them. About half a cup for every couple of gallons of water in the sink is enough to help kill bacteria on the fruit's surface. (This works great for pumpkins too!)"