It's Halloween time! Thankfully the day of jump scares and creative impersonations falls on Tuesday so the DIY post gives you plenty of time to work on a creative Costume!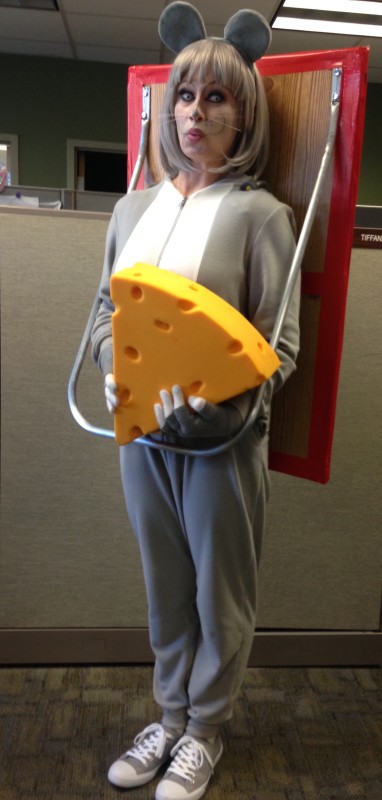 This mouse in a trap is so creative! Use your grey sweatpants for something other than a lazy day and make it a stylish idea at the celebrations! Also gives you justification for buying that Packers cheese-head when you don't like the team. Don't be shy, be the cheesedip of conversation!
"This homemade costume got a lot of attention and won me second place in our work contest.
We just used card board with wood contact paper and red tape for the outline of the trap. We put shoulder straps and bent a lead pipe my dad had laying around the garage.
The "mouse" costume was actually an elephant adult onesie from target and the cheese was order from the Greenbay Packers website.
This costume was was super easy to make and the children's comments and reactions as I walked around the neighborhood were priceless!"
This particular post contains many costumes to DIY create at home! If you like Disney and Pixar, then this is a video for you! Plus step by step instructions through YouTube can be much more instructional than the other techniques. Monsters INC never seems to go out of style, and if you mess up on it you can just call it Shrek as well!
"WASSUP MORE #HALLAURWEEN !!! so glad you guys have been loving the series so far, got 1 more vid comin at ya next sunday! let me know who your fav disney character is "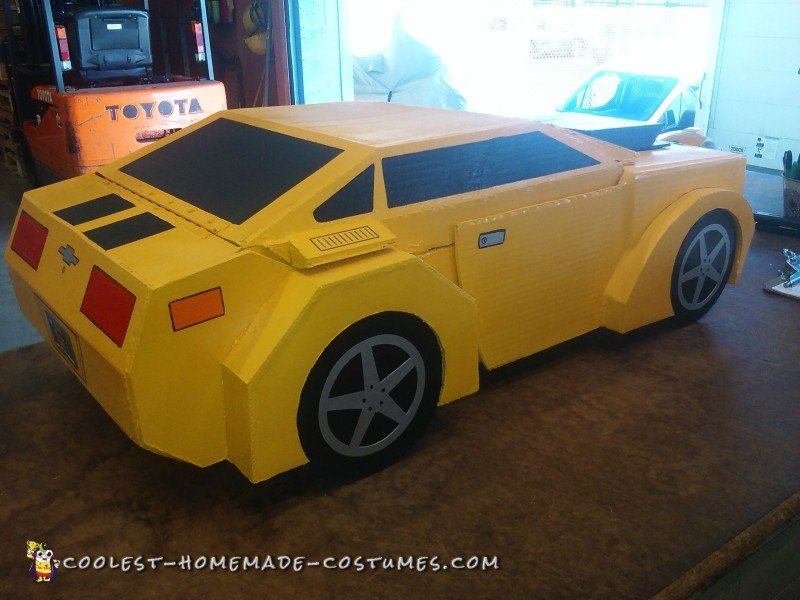 This is a beautiful idea but may be more time consuming than most would like to put in. Transformer costumes are a new rage and usually remain in a certain niche group, but it is definitely acceptable for you to wear and create! If you want to impress everyone at the contest, this is it. It's realistic almost, and go the extra mile and attach an actual axle and have a friend push you around, make it a reality.
"It is very cool, but there is very little information on how exactly to make a homemade Transformer costume. First of all, I want to tell you that this is a pretty difficult costume to make. Not the construction, the design. It has to transform easily from a robot into a car."
This is insanity. LED, Bubbles, Transparent, Automatic Rave Starter, this is a costume that will bring you to the finals fam. Translucent Jellyfish have always been a source of imagination for humankind and this is exactly that, imagination transferring onto ourselves.  Show off your technical skills and be the best one on the dance floor, extra points if you add LED strips to the tentacles!
"I was invited to a family Halloween party and knew I had to bring my A-game since my date had never won the costume contest. As you can tell we decided to make jellyfish costumes and we didn't just have the BEST time, we won Best Couple. Not to toot my own horn or anything but I'd say we owned the night in these costumes and it was glorious. We swam (danced) out into the contest with Under The Sea by the Little Mermaid playing in the background. Talk about a grand entrance and a way to live out one of my childhood dreams. 😉 Everyone kept asking us how we made them so I decided to put up a how-to on my blog"
This was the last costume I got super creative for, when I was a child. Cardboard box man. Yeah that's basically the whole story, when I was 12 I made this beaut with my dad and went trick or treating with the bag in the mouth there and people would have to "feed" the face with candy. Cardboard is really cool isn't it. Just wanted to share because why not.