It's COLD! SERIOUSLY! Make sure that you've checked out the Winter tips to staying warm, cover all your skin! I'll be wearing ski goggles as I go out. Now here are some indoor games that you may be able to accomplish without needing more supplies!
First let's go for a race, you'll need to fill up a bathtub with water, grab some paper, and make some origami boats. Invite some friends over, and blow your boats across! Whoever wins gets to, I don't know, win a quarter, slap the loser, whatever you decide! "On the first Sunday of September every year, Venetians celebrate an ancient victorious battle by racing boats down the city's maze of canals. This month at Lonely Planet Kids, we're celebrating Venice's Historic Regatta with a step-by-step guide to making your own origami paper boat."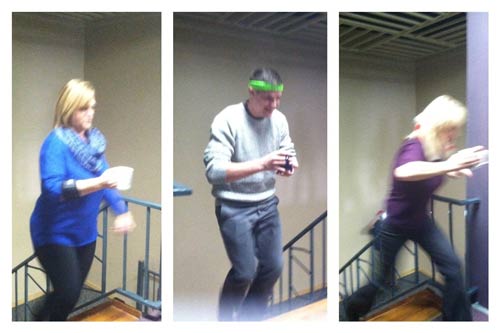 Now, this doesn't have to be coffee, it could be hot water, just make sure to be safe and don't include boiling water! Again, the winner gets to slap the loser, not sure why that's what I'm going with but I like it. If you want to make it more interesting you could go outside and toss the water for those cool steam pictures you see. "This event was for those with a steady hand. Each racer was timed on how fast they could go up our building's stairway with a coffee mug of hot water. If they spilled, 5 seconds would be added to their time, so being fast and steady was key."
You don't need plastic traffic cones to clean your floor, you could make do with mugs or plastic water bottles. Make the course go through the entire apartment, have people grab the dish towels with their toes and lift them onto the top of beds, it works! "Place plastic traffic cones in a circle around a room and give each player two kitchen towels. To play, players must start at one end of the circle and using the kitchen towels, skate around the plastic cone circle, going in between each and every plastic cone. First player to get around the circle skating wins. If they miss any of the cones, they have to go back and go through the cone they missed."
Sock-snowball Fight
This is one for the books kids, use balled up socks to throw at each other indoors, and basically play a form of dodgeball because why else would you even bother with anything other than that. This rousing game of sock snowball will show you just how awesome you could be, get some popularity points. "
Snowball fights
 are even more fun when warm in cozy indoors if you ask me.  The 
snowball flight kit
 cleans up and stores easily, too!
You could use any bin or container to make your snowball fight game.
It is such an easy game to put together, and the kids are sure to love it!
If you don't feel like making your own indoor snowball fight kit you can purchase the one pictured below on Amazon here.
Isn't it the cutest?
The one pictured is so cute it tend to go out of stock.  You can also purchase an indoor snowball fight kit on Amazon here."